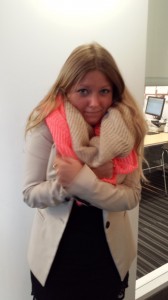 Brrrrrrrrrrrr.  That's what a lot of people in South Florida are saying right now.  When people think of Florida, they rarely imagine it being in a cold spell.  In fact, this cold snap has surprised many of our newer students (and some of our teachers)!! Even Celine, one of our Advanced students from Switzerland taking English classes in Miami is Cold!  FROM SWITZERLAND!
Nobody needs to worry too much, or buy a new heavy winter coat, however.  This cold snap will only be for a few days.  In fact, this cold spell will be over before anyone realizes it.  By the end of the week, the temperatures will back to where people can go to the beach and enjoy the water.
Yes, a cold spell (or cold snap) is just another way of saying "a period of very cold weather".
Two more expressions that your dictionary/translator won't help you with!
Comments
comments