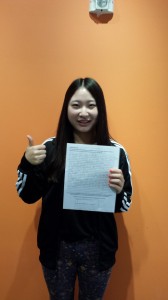 A few weeks ago, one of our teachers gave a lecture to our students taking English classes in Miami about making New Year's Resolutions.  Audrey spoke to two different groups of students, and then the students wrote an essay about the lecture.  Songyi, one of our Intermediate students from South Korea, wrote this:
In the United States, people set New Year's resolutions at the end of December.  47% of people set resolutions related to losing weight.  34% of peole set resolutions related to money.  31% of people set resoltuions related to making relationships with someone.  Only 45% of Americans make New Year's resolutions, and most of them don't keep their promises.  Whene3ver I have New Year's Day, it's very hard to keep promises to myself.  At first, I can keep my promises but later it's very hard to keep them.
Next year, my first resolution is to speak English more fluently.  So I will watch English movies every day and read a book a week.  Second, I will not watch TV more than one hour a day.  Third, I will not take a nap.  Instead of taking a nap, I will study more.
In today's lecture, I really liked Steve Jobs' saying "The only way to do great work is to love what you do.  If you haven't found it yet, keep looking".  I have only one year in my university so I am a little bit nervous.  Sometimes I can not imagine my future.  But I will do my best by thinking about this sentence.
Songyi certainly has a lot of goals for 2014!
Comments
comments