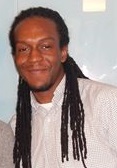 Students taking
English classes in Miami
here at EC may have noticed a couple new faces working at the front desk and in the administrative office.  Give a warm welcome to Blake:
It was a couple weeks before I moved half way around the world, to study abroad in England for 6 months, when my mentor said to me, "Blake, once you get on that plane and leave this country, you will never be the same." At the time, I was oblivious to the amount of truth that was within those words. Needless to say, my mentor was absolutely right. Traveling and studying around the world changed my life forever and ever since I boarded that plane, I not been the same.
Originally, I was born in Chicago Illinois however; I grew up in Memphis Tennessee. Growing up, I never thought about the world outside of the communities which I lived.  Seeing the world with my own eyes was a life changing experience. Through my education, travels and international experiences, I gained a great passion for other cultures and a strong desire to learn more about the people and world. Presently, I am pursuing my MS in International and Intercultural Education at Florida International University in Miami Florida. I recently started working at EC-Miami as an International Student Advisor. I am really excited to see how my experiences and education will allow me to assist my students from all over the world and become an asset to the EC-Miami team. 
When I am not working or studying for a class, you might find me at the gym working out or relaxing in the sand on south beach. I enjoy cooking,
(and eating of course), especially pasta dishes. I also enjoy traveling and love to trying new foods. I have enjoyed living in Miami since August 2013 and I am excited to begin 2014 living here working for EC-Miami!
We're so happy to have you here, Blake!!
Comments
comments