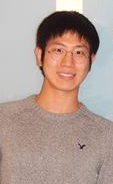 In the past two years, our school has grown from 12 students and four teachers to a staff of almost 20 and a population of students WAY bigger than when we started.  As our school has grown so much, we have added two new International Student Advisors to help us with all the extra work that we have.  If you are taking English classes in Miami, you will need to say Hello to Guheon:
Hello everyone. My name is Guheon Lee and I am a new Intern at EC Miami. I am from South Korea, and major in Business administration in Korea. I have worked as an Intern for 2 weeks now. As a team player, I am always willing to  help other teammates and create the balance between work and play. Through a variety of volunteer and working experiences, I have gained team commitment and effective communication skills. These experiences have made me able to be versatile and learn quickly in various environments.  I am very pleased and excited to work with EC family!
Welcome to EC Miami, Guheon!  We are so very happy to have you here with us!
Comments
comments