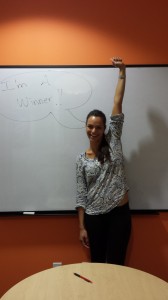 Two weeks ago, Elisa gave a lecture about Dr. Martin Luther King, Jr. to students taking English classes in Miami here at EC  in advance of the holiday celebrating him.  As always, the students that attend write an essay on the topic, and then a winner is chosen from the entries.
This month, we have a Repeat Winner!  You may remember Myriam from last October, when she wrote about Football in the United States.  Well, Myriam is back with another winning essay:
January 21st is a holiday in the USA but it is also mainly a commemorative date of the birthday of Martin Luther King, Jr.
First of all, let's talk about why he is so famous in the USA. MLK was a pastor and he's particularly known for fighting against the segregation but in a non-violent way. He became an important figure for civil rights and in addition to this he was the youngest person to receive a Nobel Peace Prize.
By the way, MLK was born in Atlanta on the 18th of January of 1929.  He was a brilliant man.  The proof of what I'm saying is that Martin Luther King, Jr. finished college at 15.  Then, he became a clergyman who raised four children.
It's important to explain the context in which he evolved.  In the USA, at this time, black and white people were separated in public spaces.  This situation was supported by the Jim Crow Laws "Separate but Equal".  To illustrate what I'm talking about, I'll give you an example which made a woman famous.  On the bus, white people sat in the front and the black people in the back.  As well, there were priorities, and when there were no more seats for them, black people had to leave one.
This segregation took place mainly in the South of the USA and was disturbed by Martin Luther King, JR., who was the leader of the Montgomery Bus boycott in 1955 which lasted 385 non-violent days.  Rosa Parks, who has been recognized as a defender of equal rights between black and white people in refusing to leave her place in the bus, forced the court to declare Jim Crow laws unconstitutional.  She is the famous woman whom I spoke about earlier.
And so went the fight against segregation and others.  MLK met with President Johnson, received his Nobel Peace Prize, marched for rights (against the war in Vietnam and poverty), and was in jail more than 26 times.  On top of that, we shouldn't forget the "I Have a Dream" speech which was a highlight of MLK's career.
Unfortunately, this hero was assassinated on the fifth of April, 1968 at the age of 39.  His murderer, James Earl Ray, was convicted for killing MLK but he claimed that he was innocent and that nowadays feeds the theory of conspiracy.
Today we can practically say that the dream of Martin Luther King is true even if there's still inequality between people. He definitely reached to open the door for all of his children to a new future.
The time of the Jim Crow laws is a shameful period in U.S. History – Dr. Martin Luther King, Jr. was one of the biggest fighters against that injustice.  Fantastic job, Myriam!!
Comments
comments