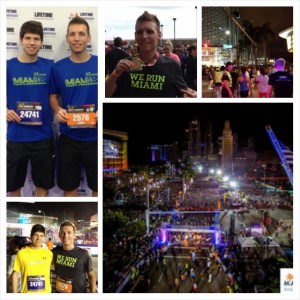 Sandro Huegli, one of our Intermediate students, arrived from Switzerland in January.  Last Sunday, he surprised students and teachers by completing the Miami Marathon!  Sandro writes:
My name is Sandro, I'm from Switzerland and I'm staying with my brother Manuel in Miami for 7 weeks. We want to improve the English language, discover Florida, and have a good time with international friends. In my free time I do a lot of sports like soccer, skiing, tennis, cycling, orienteering and running. On the 2nd of February 2014, I participated in the Miami Marathon. I ran the 26.2 miles / 42.2 kilometres in 3h50min, so I finished on the 500th position of around 3'300 attendees. It's hard to do without party for one week, train 5 days per week, just eat spaghetti for a long time and wake up before the sun on the race day, but all the hard work and dedication deserved great recognition from my schoolmates. The atmosphere was great and it was a good experience for me to finish the second marathon in my life. A big thank also to Manuel, who accompanied me. He ran the half marathon as a preparation for summer races.

There is so much more to Miami than just the beach and Cambridge ESOL courses!
Comments
comments