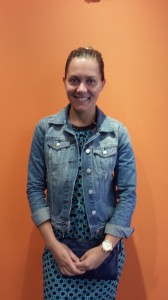 I have been co-teaching the FCE class here at EC Miami since early January.  The writing section of this test tends to give students a particularly hard time, and I have worked this class particularly hard in order to help them practice.  FCE students are also expected to read the book The Perfect Storm, as one of the questions on the writing section will ask about this book.
Today, I gave the class two writing options, and 15 minutes to complete it.  The idea is to get the class to think in English, as opposed to translating from their language.
Kristina, one of my Russian students in the class, wrote a great practice essay today related to the book.  She has shown great improvement in our classes and I'm sharing her essay on "What is a 'Gloucesterman'" with her kind permssion:
To be a 'Gloucesterman' doesnt' mean to be born in Gloucester or live there.

To be a Gloucesterman doesn't mean to be a fisherman.  This definition doesn't make you, you make this definition.  You can call yourself a Gloucesterman if you deserve it.

The fishermen call themselves Gloucestermen not because they provide their hometown with a lot fish.  They call themselves this because they don't know the meaning of "fear".  They are men who never give up.  They are men who have a goal and do everything to reach it.

The Gloucesterman is adventurous, brave, and warm-hearted.  The Gloucesterman always supports and protects their fellow crewmembers.

The Gloucesterman doesn't know how to lose.  Only death can destroy them.  But even that takes a lot of effort.
Great job, Kristina!  You showed a lot of thought!
** Remember, in addition to small group classes, one to one English lessons in Miami are also available! **
Comments
comments