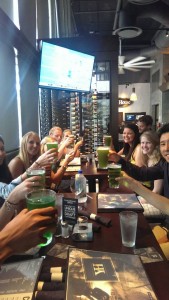 Sometimes, while walking past classrooms where a student is taking a one on one English course in Miami, the sound of laughter can suddenly be heard.  The student and teacher break out in laughter for no apparent reason.  Did someone say something funny?
Perhaps someone looks strange, and that is causing them to suddenly break out in laughter.  Often at movies, the audience will break out in laughter at the same time when something funny happens on the screen.  Other times, in sad movies, people may break out in tears when something bad happens to a favorite character.
Hopefully, no one breaks out in tears in our classes here!
If a person breaks out in laughter (or tears), it means that they are laughing (or crying) suddenly.  Another idiom for our students to add to their growing list!
Comments
comments