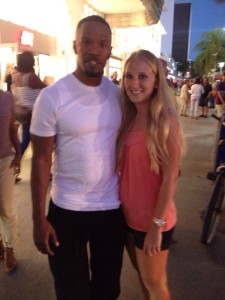 One of my Swiss students from my CAE class, Leonie, told us about meeting Jamie Foxx a few months ago:
One day in February I was sitting with other students from our EC school in 100 Montaditos (very cheap and delicious restaurant in Lincoln Road) while someone was screaming, 'Hi Jamie Foxx'. My friend and I were looking at each other and suddenly we got up and ran towards him. We caught the chance and took a picture with him. I was really excited and full of satisfaction. Unfortunately, he wasn't as friendly as I had expected! However, I'll never forget this day 🙂
You may remember another one of my students, Fernanda (from Brazil) had a celebrity encounter a few months ago as well!  When you're looking at US language schools, think of the possible celebrity encounters you may have!
— Mark
Comments
comments