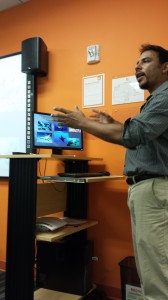 Another month, another Academic Lecture for our students taking an English course in the US.  Today, Eric (who has come back to South Florida after spending a few months working in Alaska!) spoke about one of his personal passions:  SCUBA diving.
SCUBA (short for Self-Contained Underwater Breathing Apparatus), is very popular here in Florida.  No matter where you are in the state, you are never more than one hour away from the ocean!  Eric spoke to the students about the different equipment that is needed to safely go diving, what you can expect while underwater, and brought in some of the equipment for the students to examine.  The underwater pictures were particularly stunning, showing moray eels, sharks, rays, turtles, and dolphins.
Check back in a few days to see some of the student essays from today's activity!
Comments
comments