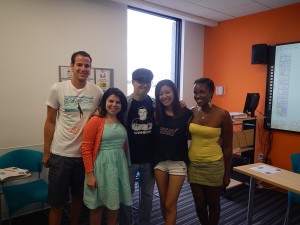 The Staff Member of the Month is Mark Little, one of our Full-Time Instructors here at EC Miami.  Students looking at US language schools may see him around!
Hometown: Washington, D.C.
Mark's Miami Recommendation: Get off of South Beach and experience the rest of Miami and South Florida!  Catch a Marlins game at Marlins Park and check out Little Havana.  Swim with dolphins in Key Largo.  Go snorkeling in the Keys!  There's so much more in South Florida than the clubs.
Mark's English Advice: Step outside of your comfort zone and take a chance.  Learning a language is not easy, but it doesn't happen just by looking at a book and writing answers.  Talk to people.  Read in English 30 minutes a day.  Put away your bilingual dictionary/translator.  The more you depend on translating to your native language, the more difficult it will be.  If I can learn another language, you can do twice as well!
Comments
comments