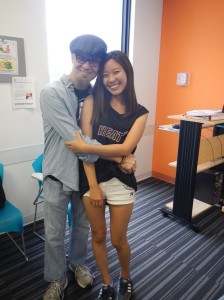 Taking her English course in the US since last December, our Student of the Month for June is Inaha Hwang from High-Intermediate!
Hometown: Gangnam, Seoul, South Korea
Student Thoughts: Miami has a log of wonderful places and EC Miami is located in one of the famous places in Miami.  There are good restaurants and shopping places.  Also, EC Miami is very close to Miami Beach, so after school, students are going to the beach together.  I've been in Miami for six months and I'll stay two more months.  EC teachers are really nice, friendly, open-minded.  We can enjoy a lot of activities with them.  My English has been improving since I came here.
Mark's comments about Inaha: Ina has been wonderful ever since she arrived.  I have truly enjoyed watching her embrace her English studies and also her new appreciation for the Rolling Stones (courtesy of her teacher).  She is a great example for our students!
Comments
comments