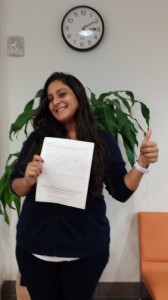 A couple weeks ago, Eric gave a lecture about SCUBA.  Academic lectures are something that happen every month here at EC Miami, for all of our students taking English courses.  At the conclusion of each lecture, we ask the students to write a summary about it, and then two students from varying levels are chosen as that month's winners.
Pinar Aydin comes from Turkey, and is one of our students in Low Intermediate:
We had a fun topic for this lesson.  It was "SCUBA diving."  We learned what SCUBA is, what we need for this sport, how we can do this, and we we need SCUBA equipment.  Florida has a lot of different watersports.  These are jetskiing, waterskiing, fishing, surfing, windsurfing, shark diving, parasailing, skimboarding, and SCUBA diving.  Also you can swim and sunbathe.
SCUBA diving is a form of underwater diving in which a diver uses a "Self-contained Underwater Breathing Apparatus" to breathe underwater.  SCUBA diving is a fun watersport.  When you are diving in the ocean, you can see all of the underwater world, kinds of fish, and sunken ships.  Also, if you are lucky, you can find valuables.  So you have to do SCUBA diving for all of that.  How can you do it?  If you want to do this, you should learn some rules.  This sport has a course to learn diving.  You must go to the course before the dive.  Also, if you want, you can take a license for this sport.  After that, you need equipment for diving.  These are the wetsuit, mask, airtank, regulator, depth gauge, weight belt, fins, a dive computer, pressure gauge, and BC.
If you apply the rules, SCUBA diving is a safe sport.  Also, we are so lucky because Florida is a great place for this sport, especially Ft. Lauderdale.  So this topic is interesting for me, because I have never tried this sport, but I think I have to try it soon.  I want to see underwater from up close.
Comments
comments