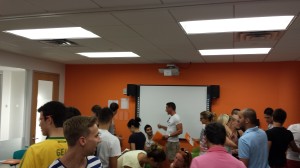 Summer is here and that means more than just hotter weather here at EC Miami.  This is the time of year that our enrollment jumps up to much higher numbers, and the group of students that we received today certainly shows that!  Today over 40 students from around the world have arrived to start their English courses with us.
Today is a busy first day for them, as they will be taking their placement tests, learning about the school in their orientation, and then taking a free class this afternoon about Miami and all it has to offer.  By the time they receive their class schedules (they will start classes on Tuesday), they will be ready for some relaxation at the beach!
Welcome to EC Miami!!
Comments
comments