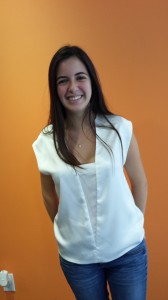 A couple weeks ago, Eric gave a lecture about SCUBA.  Academic lectures are something that happen every month here at EC Miami, for all of our students taking English courses.  At the conclusion of each lecture, we ask the students to write a summary about it, and then two students from varying levels are chosen as that month's winners.
Laura Soto is from Venezuela and is a student in our Upper Intermediate class:
There is no other place on the planet as full of life as the ocean.  In that vast space, humans can do and practice a million things like surfing, boating, snorkeling, fishing, SCUBA diving, and much more.
Talking about SCUBA diving, SCUBA is the acronym of Self-Contained Underwater Breathing Apparatus, and was developed and created by Jacques Yves-Cousteau around 1980 to 1990; this sport has become very famous for recreation.  It became so popular because when you practice, you can discover the beauty of the underwater.  Also, it is a relaxing sport and you can have the opportunity to interact with nature and the only condition around the world for doing it is a simple rule:  know how to swim.
Miami is a renowned city for diving.  Here you can find a lot of sunken boats underwater, and see animals like dolphins, sea turtles, lobster, rays, and even some sharks.  Diving in South Florida can be cheaper because there are many stores that offer lessons.
Ft. Lauderdale is also a very nice place to SCUBA, in fact it is one of the ten best cities in the world to practice diving because there is a coral reef where you can find all kinds of animals.  Another cool place to practice SCUBA in Florida can be the Florida Keys.
To practice SCUBA, you will need special equipment which includes a wetsuit, air tank, dive mask, fins, boots, compass, and pressure gauge.  You will also need to take some lessons like PADI, NAUI, or SSI to get a certification which is valid for the rest of your life.
SCUBA is safe if you remember simple rules like: you must go with a partner, always check your air gauge, and know that you are not from the ocean.  So what are you waiting for?  
Comments
comments