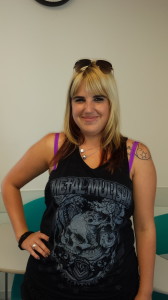 You may remember Sabrina, one of our student ambassadors.  She finished her English courses here at EC Miami, and is getting ready to go back to Switzerland:
Hey there my name is Sabrina, I'm 23 years old and from Switzerland. I was at EC Miami for 10 weeks.
The reason why I chose Miami for my language school was, I was here for vacation, and I loved it.  So I looked for an agency and they told me I should go to the EC Miami language school. At the First day I was really excited to meet all these new people in a place I didn't know so well. Every day I learned a little bit more about everyone and about Miami and I started to loved it. The people at the school, all the teachers were so nice. And when I had a question they always helped me.  Also the ocean, the beach, whole Miami is so beautiful. Every day when I finished school in the morning, I went to the beach with some friends from the school. Once a week we made a big barbeque with about 20 students. It was so nice. Of course there are a lot of nightclubs. We went out almost every second day and enjoyed the whole nightlife.  I made a lot of new very good friends from all over the world. It was a beautiful time and I'm a little bit sad that it's over now.  I'll always remember my experience and never forget it.
Comments
comments