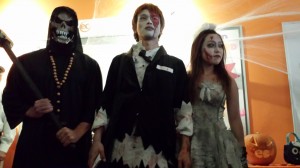 Last October, all of our students (from beginning to those prepping for their TOEFL and Cambridge ESOL Exams) and staff members participated in one of the US' favorite traditions: HALLOWEEN! Everyone got into the spirit of this "holiday" by dressing up in costume. Other ways we got into the spirit was by playing music with Halloween themes ("Monster Mash", "Thriller"), carving pumpkins and by having a costume contest.
For many students it was their first time dressing up for Halloween, and they all were able to get into the spirit of Halloween very easily. Later that evening, many students walked out on Lincoln Road and mingled with the thousands (!) of other people who had clearly gotten into the spirit of Halloween.
What does "get into the spirit" mean? If you followed the context of this post (a great way to learn new vocabulary and expressions), then you would know that "get into the spirit" means "to be enthusiastic about something."
How do You get into the spirit for your favorite holiday or celebration?
Comments
comments