Here at EC we have students from all over the world, and from all different backgrounds who sign up for our ESL Miami courses! This even includes family members and spouses who sign up and take courses together! Come meet one of our couples in the spotlight, Anastasia and Alexandr from Russia!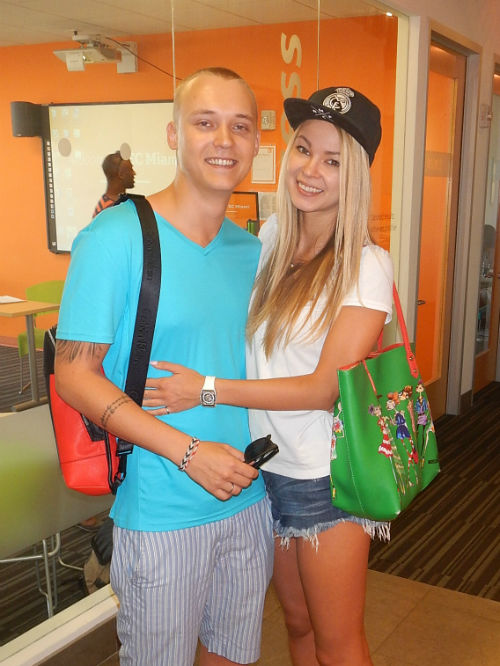 How long have you been together?
Anastasia: We are together 3 years but know each other for 8 years.
Alexandr: 3 years
Where and how did you meet?
Anastasia: We met in nightclub. I have already come from China and Alex came from Croatia.
Alexandr: We met in nightclub.
What do you like most about each other?
Anastasia: He is smart and funny. He makes me laugh everytime.
Alexandr: She is perfect! The best woman that I have ever seen.
What do you think about marriages with couples of different ages?
Anastasia: That's not bad. Everything depends on character. When husband younger than you he has more energy.
Alexandr: Older women are wise and understand everything from one word.
What advice would you give to someone about marriage?
Anastasia: Love each other, be patient, … and spend a lot of time together.
Alexandr: Love each other and listen careful what your partner wants.
Names: Alexandr Shcheglov and Anastasia Shcheglova
Nationality: Russian
Age: Alexander is 23 and Anastasia 25
Course: Semi Intensive 24
Level: Alexander is in Pre-Advanced 1A and Anastasia is in Cambridge Advanced Exam Prep
Comments
comments