Here at EC we have students from all over the world, and from all different backgrounds who sign up for our ESL Miami courses! This even includes family members and spouses who sign up and take courses together! Come meet one of our couples in the spotlight,Mickel Brandt and Naika Celant from Switzerland!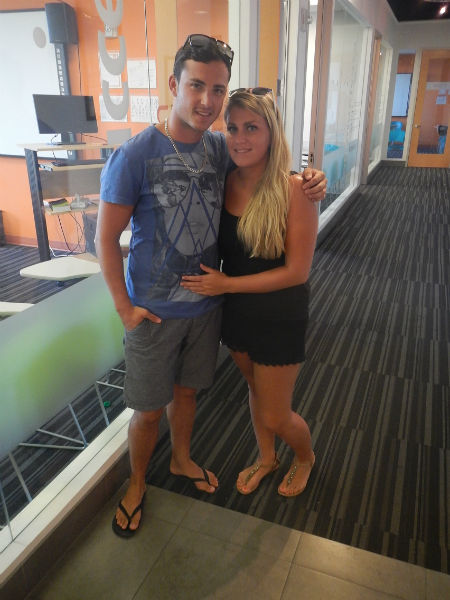 How long have you been together?
Mickel: too much…I'm just kidding 😉 4 and a half years
Naika: 4 and a half years
When and how did you meet?
Mickel: July 2010, in a festival in Switzerland
Naika: We met in July 2010 at a party
What do you like most about each other?
Mickel: She makes me laugh, her kindness, her great heart,
she is generous, helpful, beautiful, and she cooks very well.
Naika: He is funny, attractive, very helpful!
He makes me laugh all the time and I'm never bored with him, he is the perfect man 🙂
What advice would you give to other couples?
Mickel: Speak when there is a poblem. Share some moments only between lovers.
Naika: Always listen to each other, speak when there is a problem, and spend a lot of time together.
Would you like to say anything about your EC Miami experience?
Mickel: EC Miami is a very good place to meet people from other countries and of course the teachers are very sympathic and nice. I spent 3 months with my girlfriend at EC Miami and it was an incredible experience. I met a lot of new people and I could improve my English very well.
Naika: We have spent 3 months together at EC Miami and it was wonderful. It's easier when you're two people travelling together because sometimes you need help with the language. It was a really great time and I would recommend EC to other students.
Names: Mickel Brandt and Naika Celant
Nationality: Swiss
Age: Mickel is 25 and Naika 22
Course: Mickel Semi-Intensive 20    Naika General English 20
Level: Mickel is in Pre-Advanced and Naika is in Pre-Advanced
Comments
comments