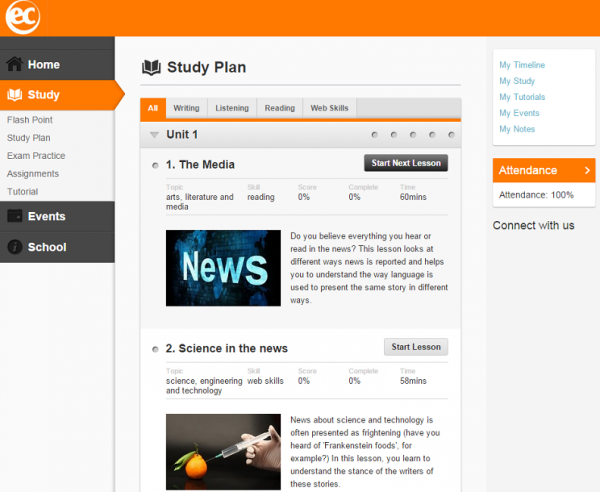 What exactly is EC Online? It is a website where you can be aware of what's happening at school and check your student profile.
If you want to log in, you just have to go to the EC website. On the top of the screen you can see an item "Sign in".

To sign in, you have to know your student ID number, normally you can find it on your booking confirmation. If not, you can ask the Academic office or your teacher, they can give it to you.
On this network you can check your timeline as an EC Student, your attendance, the summary of your daily classes, the activities planned by the school for the month. You also find useful information about the school or ife in Miami (requests, questionnaires, accommodations, academic, tips).
Finally, this web page gives you the opportunity to learn English in a different way. You will find a section called "study" on the left of the page. Here, there is a lot to do, you have different kind of exercises like writing, listening, reading and the most important is that everything is classed by topics so you can choose one that you actually like. You can also take an exam to check your level.
I recommend this website to every EC Students especially to new ones because we all know that the first week isn't easy, when you are by yourself in a new country and this website is full of tips.
– Celine, France
Comments
comments