We have tons of diverse students from all over the world at EC Miami. They are having fun olearning English and exploring the FANTASTIC city of "Miami" during their period of living in Miami. Let me introduce one of these students, Ippei Suzuki, who is from Japan. He has already spent two months in Miami and going to spent almost one more month here.
Read on to find out what he wants to share and express about his experiences in Miami!
"First of all, why I chose Miami to have a studying abroad is that the weather in Miami is totally amazing, and I can't see and meet many Japanese people which makes it easier to make a lot of fantastic friends who are from all over the world.
Secondly I am going to talk about atmosphere and style in the class. I'm seriously satisfied with focusing on leaning grammar and writing in English. Furthermore, our teachers give enough time to have a conversation with students so that we definitely improve skills for conversation (speaking and listening) in English. And my favorite point in the class is the teacher's funny stories that also help me to improve listening skills. I definitely feel that I have been improving my English skills since I arrived in Miami thanks to great teachers and atmosphere.
Finally, I want to share couple of recommendations that you can experience around Miami. My most favorite thing is chilling out on the beach. One of the most beautiful beaches in the world is just 15 minutes away from the school by walking and 3 minutes away from residence by walking. And also you can taste diverse cuisines (Latin, Caribbean, European, Asian etc…). It has awesome nightlife and more! I am completely sure that you will be able to have unforgettable experiences and memories while you are learning English in Miami! "
Ippei Suzuki, Japan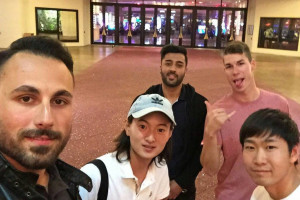 Comments
comments