Born: Maryland, USA
Lived: New Jersey, Virginia, North Carolina, South Korea, Mexico city, Miami
Visited: Belgium, Bolivia, Canada, Denmark, East Coast USA, England, France, Germany, Japan, Luxemburg, Netherland, Scotland
*Get to know your classmates. Be sure to introduce yourself to everyone when you arrive. Don't be shy. Let everyone know what you are interested in doing and you will be surprised how many others feel the same. Participate in EC activities, such as touring Key West or the Everglades.
*See a show. Go to Micro Theater Miami and see 15 Minutes plays, limited to 15 people, inside a cargo container, with 6 plays/night. Olympia Theater has free jazz music at 6:00 on the second Wednesday of every month.
*Eat, Drink, Repeat. Taco Rico, located at Washington and 15 Avenue, is famous for $1 Taco Mondays. They serve delicious "Tex-Mix" food and you can get a full meal for less than $10. One block from EC is The Abbey Brewing Co. Visit during Happy Hour(3:00-7:00pm) for some strong and tasty $4 beers.
*See Florida. Remember, there is more to Florida than just Miami and South Beach. Visit Kennedy Space Center, Naples, Orland or St.Petersburg. Go to Big Apple bookstore in Ft.Lauderdale for sale weekends, $2 DVDs and books.
*There's A LOT TO DO in Miami. Visit Ninja Lounge and play basketball and volleyball on trampolines, or try the high ropes course and climbing walls. Go to Lock and Load Miami, where you can shoot machine guns.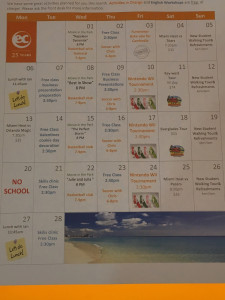 Comments
comments