English in the city is one of the ESL Courses in Miami. This course is the opportunity for students to visit fascinating locations and learn English for everyday situations.
Last week, our students from English in the city class had a good time at Miami Beach and got some important knowledge about water safety. Playing in the water can be fun, but it can also be dangerous. Water safety can help prevent injuries and drowning. Therefore, it's necessary to learn how to stay safe when you're at the beach.

Here is some basic information about water safety on Miami Beach:
1. How many lifeguard stands are there on Miami Beach?
There are 35 lifeguard stands on Miami Beach.
2. How many colors are there for the flags at the lifeguard stand?
There are 4 colors for the flags: red, yellow, green, purple
• Red: High Hazard – High Surf (Red with a line crossing out a swimmer : Water Closed to Public)
• Yellow: Medium Hazard – Moderate
• Green: Low Hazard – Calm Conditions
• Purple: Dangerous Marine Life
3. From what time to what time do the lifeguards work?
They work from 9am – 7pm.
4. What are rip currents?
Rip currents are strong currents of water flowing away from shore that can take you out to sea.
5. What should you do if you are caught in a rip current?
– Stay calm
– Don't fight the current
– Escape by swimming laterally, and then at an angle toward shore
– If you are unable to escape by swimming, float or tread water.
– If you feel you will be unable to reach shore, call and wave for help.
6. Why do the lifeguards sometimes blow their whistles at people in the water?
The lifeguards blow their whistles to warn you that there might be a rip current.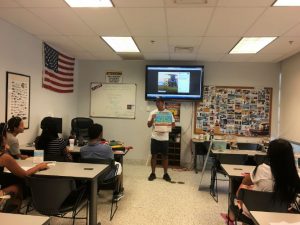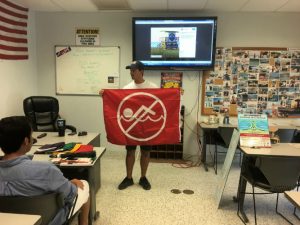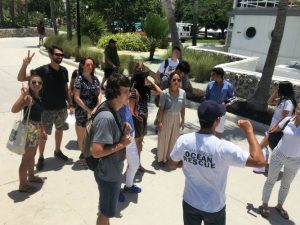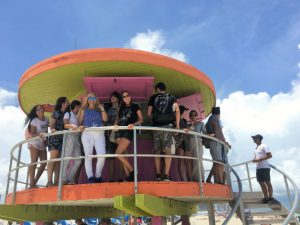 Comments
comments