Ibu Tsujimoto is our student from Japan. This is her last week at EC Miami. Today, she would like to share her experiences after 5 months with us.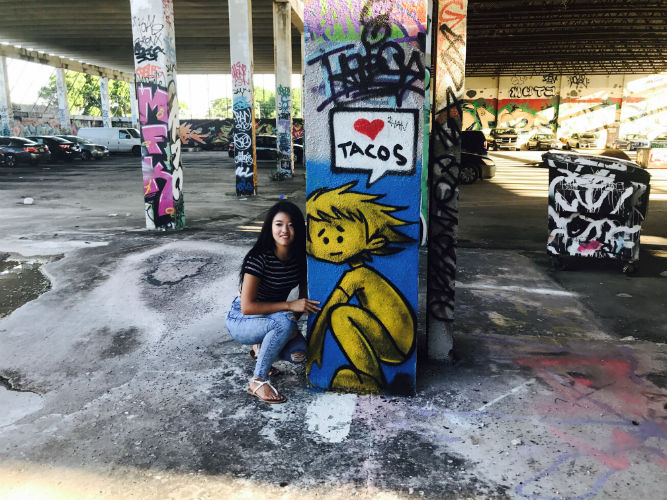 1. How long have you been at EC Miami?
It's been 5 months. I started to take ESL Courses in Miami since April.
2. What are you doing in Japan?
I've just graduated from University in March with a bachelor degree in international culture.
3. Why would you like to come to Miami to learn English?
I want to find a job in tourism industry in Japan. To be able to do that, I need to be fluent in English. So, I came here to improve my English. I chose Miami because there are not many Asian people here. Therefore, I could practice my English easier and faster.
4. It's great. Can you share with us about your English improvement?
Well, at first time when I came to Miami I was so nervous when people were talking to me. I didn't understand at all. But now I could understand and answer when someone talk to me. I'm getting used to it now. My speaking and listening skills are better than before.
5. Who is your favorite teacher at EC Miami?
I love all the teachers here but Rafael is the teacher who supported me a lot when I first came here. I really appreciate it.
6. Which activities do you like the most after class?
Oh I love all the sport activities. I join our school basketball and volleyball activities every week.
7. Where is your most favorite place in Miami?
Wynwood wall is my most favorite place in Miami.
8. Are you living here alone or with friends?
I'm staying in a host family.
9. That's cool. How is your experience?
Well, I love that. My host family is so kind to me. She bakes cakes every week for me. On my first day at her house, she cooked Japanese food for me. She also took me to all the popular places in Miami Beach.
I have no religion but my host family is Jewish. For me, it's interesting to see the way Jewish people live. I learnt a lot about this new culture.
10. Could you tell me about your plan after finishing your course in EC Miami?
This is my last week in EC Miami. I'm going to EC New York and EC Los Angeles. I want to go to different places in the US to experience before coming back to Japan.
Comments
comments