As usual in our English Classes in Miami at EC, we think it is a pretty good idea to take students out for a walk from time to time. Just for the sake of breaking the routine of the classroom. It sounds like fun, now doesn't it? Actually, the umbrella topic of the unit to be covered for the week with the Pre-Intermediate class was History- booooring- you guys might think. Let me tell you, though, that it wasn't like that at all. That is why we thought of supplementing the unit to be covered with a pop-up activity, like the one visiting the Holocaust Memorial in the very heart of always-vibrant Miami Beach. By the way, The Holocaust Memorial,which is located on 1933-1945 Meridian Ave, Miami Beach, FL 33139, makes the difference taking into account the usual atmosphere and view that characterize Miami Beach.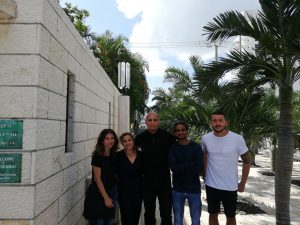 You wouldn't expect to come across a sight like this when walking around South Beach. Making your way through on Meridian Avenue (the one that practically splits South Beach into two) and all of a sudden getting to see the huge forearm sculpture extending up to the sky is just thrilling and in the mean time unexpected. Even after having spent two, three, or even four weeks in South Beach the students in Pre-Intermediate hadn't had the chance to go anywhere near there.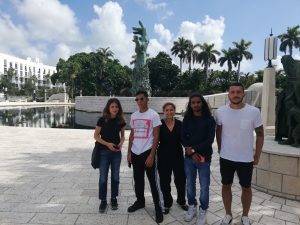 We had spent the first period of the lesson in the classroom, you know? Just sitting there doing our thing (teaching/learning) if you know what I mean, LOL, but everything changed as we set foot on the street to make our way to the Holocaust Memorial. Our walk was enjoyable and also convenient for a Monday morning. Once we got there, we had the opportunity to read about this episode of modern history on the walls of the location, which is access-free. It was a different kind of learning experience for our guys. After a fifteen-minute walk back to school from there, nothing was more refreshing than a cup of ice cold water, even if summer was coming to an end.
Comments
comments