As an example of the meaningful and enjoyable writing exercises to Learn English in Miami, in the free class that we offer at EC Miami students were asking about the right structure of a paragraph. They learned that a reasonable paragraph should include three essential elements: a topic sentence, supporting points that can be supplemented  by one or two more sentences, and a conclusion. With all of this in mind, we decided to write about why Miami Beach is a great choice to come to the United States and learn English. Here is the written work by one of our students, Danil, who is in the Pre-Intermediate class. He actually finished up a very interesting paragraph that we want to share with you all this time: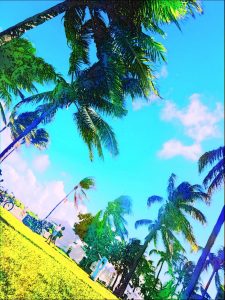 Miami Beach is a great choice to come and learn English for many reasons. First of all, the weather is very comfortable. I mean, it is convenient for me because it helps me relax and recharge myself after class. It doesn't snow here. The temperature doesn't go down like in other states and cities of the US. Secondly, everything is really close. You don't really need to rent a car or a motorcycle to get somewhere. With a scooter, a bicycle, or even a nice walk you can get to supermarkets, restaurants, bars and stores very easily. Thirdly, people are amazing. They are really friendly around here. You can also make friends any time, and if something ever happens to you, you will get help from them as soon as possible. Finally, Miami Beach is located across the bridge from Miami, one of the big cities in the US where shopping is very convenient. When you need to buy something, you just find the nearest mall. There are many of them near here. You can buy anything for a low price. In conclusion, I can tell that I have enjoyed my stay here in Miami Beach for all the reasons mentioned above.
Well, what do you guys think? He did a good job, right?
Comments
comments