There is nothing like sharing an interest that you have with your partners at our EC English school in Miami. Likewise, we appreciate any written work our students want to post on our blog. This time and inspired by the ocean view through the airplane window seat upon his arrival, Lukas Anrig (coming from Switzerland) was willing to share his dream come true of sailing across the Mediterranean Sea and the Atlantic Ocean. So there we go! Here is his testimonial: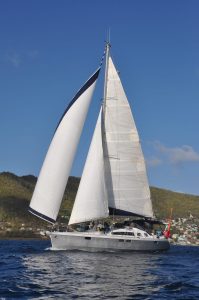 "I bought a sail yacht in 2012 and started a big adventure with my family. With my wife we have two children, Nick and Laurelle, and my dog, Nina. We set off from Venice, Italy because in Switzerland we don't have the sea. So in the summer of 2012 the adventure got started. We crossed the Adriatic Sea from Greece back to Italy. After many days, we were on the Balearic Islands. We learned a lot about handling the boat. Sometimes we had bad weather, big waves and strong winds. Our kids helped us direct the sail yacht and the dog was a nice company. After six months we arrived in Gibraltar, the door to the Atlantic. We had to wait for three weeks until the weather was fine. Then, it was possible to start heading towards Canary Islands. Five days later our anchor goes down in Lanzarote-a very nice bay. We visited different islands of the Canary Islands chain. We bought a lot of food, water, beer, and wine to be on board for such a long time. La Gomera was our last point in Europe. After eight days we arrived in Mindelo, Cape Verde. For five days the weather was really bad with storms and big waves up to 25 feet and 35 to 50-knot winds!! During the storm our dog fell in the sea, but the whole family managed to bring him back onto the yacht.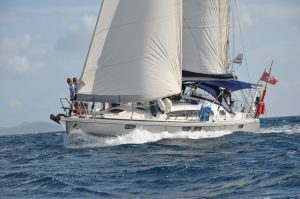 We were happy because we had trained so much for such an emergency. On the night for New Year's 2013 we started to cross the Atlantic with 4200 km-ts ahead of us!! The Atlantic can be three miles deep sometimes. it's a lot of water. We needed eighteen days to arrive in Barbados in the Caribbean. We were so glad we made it. We were starving, though. We had a lot of food on board but no fruit or fresh food at all. We enjoyed the Caribbean for eight months, regardless of the bad hurricane season. We had to go  further South. So, we stayed three months in Venezuela. We secured the boat and climbed the biggest mountain in Venezuela which is 16,600 feet high!! We needed to keep an eye on pirates off the coast of Venezuela. Luckily, we didn't have any problems. Everybody was nice and friendly to us, in fact. We sailed back to the West Indies and sold our boat in 2014. We went to Los Angeles CA and bought a 30 feet RV. The last five months we crossed the USA and Canada. we had a very nice family adventure together. For two years it was amazing. Currently, we are brainstorming on ideas ideas for the next journey".
Comments
comments