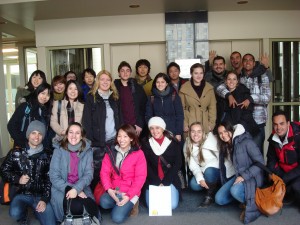 I have set myself the task of presenting you with the English and French courses that EC Montreal offers but the title above caught my eye so today I am going a bit off-course because I couldn't pass the opportunity to let everybody know that studying in Montreal is time well spent!
 A new survey by the British firm QS ranks Montreal as the best student city in Canada and 10th in the world! The criteria used was based on student mix, the quality of living, employer activity and affordability.
This raking just proves one more time that coming to Montreal to study in a university ( by the way McGill university ranks number 17 in the world at the moment), college or a language school such as ours, can only be a wonderful experience for you!
It is also important to note that Montreal has a significalt number of international students, so no matter what country you   are coming from you will have no problem fitting in and making friends. Another thing to keep in mind is the fact that the cost of living for a student is lower here than in any other city. Montreal's very good transportation system including bus, metro and train contribute to this low cost because it is so easy to move around without having to have a car!
So, in order to get a true taste of Montreal you definitely have to come and see it for yourself, and I cannot think of a more culturally diverse and bilingual city for you to learn English or French!  EC Montreal it is then!!!
Comments
comments