This Monday late in the afternoon, a smilely student walked in the office to hand in the last week evaluation and he started off saying "merci beaucoup pour tout! (thank you so much for everything!) I really liked all that the school provided! ". It was Marc who came to learn French with us from Belgium 3 weeks ago! I clearly remembered him from our new stduents group photo!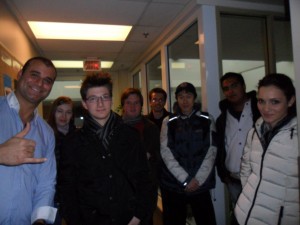 Marc's first day in EC Montreal (4th one from the left) 🙂 
   As I was listening to  his sweet continuous compliments, I started to think that it would be so great to leave him a memorable "finale" here. Then, he said "I saw that my country was not marked on the world map in the school.  I guess I am the first one from Belgium to come here!" So here we go! Volia! We went to where the world map was on and Marc had his moment to pin his town in the map!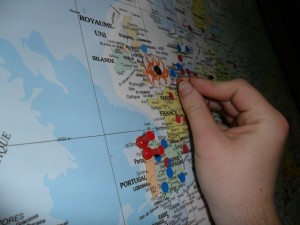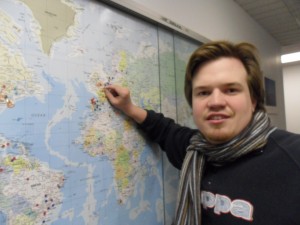 Marc Santens' moment at EC to spot his city Maarvedal in Belgium! 🙂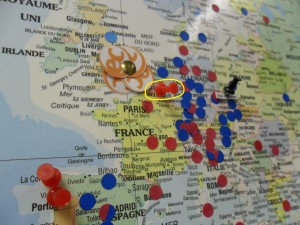 Thanks to Marc now we have one more pin on our map!
I was glad to know that Marc had an excellent time and memorable 'finale' shared with us. We wish you all the success in your studying!  Au revoire et à la prochaine, Marc!
Curious about  his sweet compliment? Here is what Marc talks to us about his time on General French course at EC Montreal :
'"I really enjoyed my stay here in Montreal. Great teachers, great homestay and a wonderful school. I enjoyed the various interesting excursion the school had to offer. The lessons where of a very high quality as well. To summerize it EC is an AWESOME!!! school. It's worth coming all the way from Belgium for 3 weeks. Keep up the good work!!! I followed a similar course in France last year  for 12 weeks and I'm proud to say that the EC experience topped my other experience in all topics. – Marc Santens"
Esther Woo
Comments
comments