We at EC Montreal are very proud to have homestay option available for our students.  We have such dedicated families.  They love what they do and they show it.   Our homestay families love to contact us to share their homestay story experiences,  and we love to hear them. 
Diane and Berri have been hosting for us since 1999. 
This is Diane and Berri's first student, way back in 1999.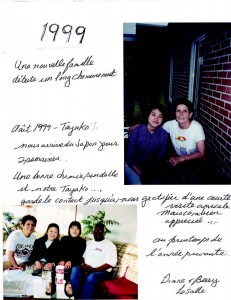 As Diane says in her note, this is the beginning of a beautiful experience.  Tagako arrived in August for only two weeks but it didn't take more than that to establish a long lasting relationship with the family.  Tagako still keeps contact with the family to this day.
Stay tuned because there are more pictures and stories just like this one.  Who knows??  maybe one day your picture will be posted on our blog.
Comments
comments