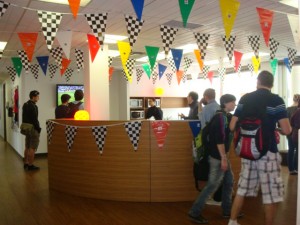 It is a beautiful day in Montreal today! … and still EC Montreal's student lounge is buzzing with excitement! I wonder why? No, I don't .. because I already know the answer: our students and staff are watching the Euro 2012 game between England and France, in high definition, I might add, on our newly installed cable network!  You can call it perfect timing, I will call it " Thank you Elisa" for going ahead with it,I'm sure it will make our students super happy!
It is so nice to see the concentrated faces  of our students ( and staff when they can take a peek !)looking at the screen as if it was the most important thing ever. The debates at the break were interesting also and they were all in English or French ( after all it was the English and the French playing! ).
We are looking forward to a month of quality soccer and the fact that that our students can watch it  together now, live  in EC Montreal's student lounge, gives them the opportunity to bond  and to practice their target language even more.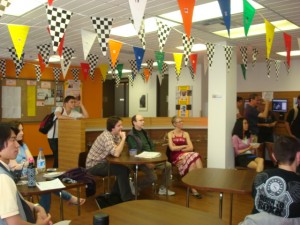 Comments
comments