Poutine is a mix of french fries, gravy and cheese that has become, along with Smoked Meat and Bagels, one of the dishes most closely associated with Montreal. As such, the notion of who invented it and where you'll find the city's best version is still up for debate…
An authentic Québécois poutine contains french fries, sauce (gravy is the most common, but everything from BBQ to veloutés are used) and cheddar cheese curds (which are the solid dairy product produced when milk is curdled). These are perhaps the only incontrovertible facts about this devilishly heavenly dish. Several small towns in Quebec claim to have invented the dish in the late 1950s, most notably Drummondville and Warwick, and its name is said to derive from the initial inventor who proclaimed that "ça va faire une maudite poutine" ("it will make a damn mess").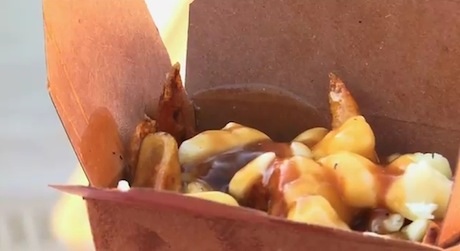 Being a city that loves its cuisine, both of the high and low variety, there is no end to the new variations that Montreal chefs have dreampt up. Perhaps the city's most famous high-end poutine is the one built with duck fat fries and topped with foie gras from Chef Martin Picard's much-beloved Au Pied du Cochon. Another superstar of the Montreal poutine world is the lobster poutine that helped Chuck Hughes of Garde Manger win his turn on Iron Chef.
A visit to Montreal would not be complete without trying this mess of a dish!  It is absolutely delicious!! – beware – it is not figure friendly in the least!
Comments
comments