The largest pyrotechnicscompetition of its kind in the world, the Montreal International Fireworks Competition has been going strong since 1985 and remains one of this city's top attractions. In 2012, the Montreal Fireworks Competition is held from June 30 to August 3, 2012.
Click here for a detailed schedule of the 2012 Montreal Fireworks Competition, complete with times, featured countries and theme of the night.
On Tuesday, July 17, our activities team, Emmanuel and Andrea will be taking students to view one of the competitions!  Make sure to join us!! If you have purchased a season's pass to the Six Flags Amusement Park – Laronde, you can enter the park simply to view the fireworks!!  Of course, you may stay for all the other thrills the park has to offer!!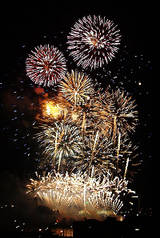 Comments
comments