Friday night is date night for my husband and I.  Every Friday we try out different resaurants or bars around the city.  Last Friday, my husband informed me that one of his colleagues is from Italy and new to the city and doesn't know many people.  He has only been in Montreal for 10 days.   He asked if we could take Daniele along on our date night.  We decided to take Daniele to Old Montreal.  We had dinner in a pub on St. Paul's street.  The pub had an open concept.  There are trees growing inside the pub and there is no ceiling.  There are birds flying around the restaurant.  We are inside but we get the feeling we are dining "al fresco".  It was delightful!  Daniele was so impressed.  He kept saying "wow, this is cool".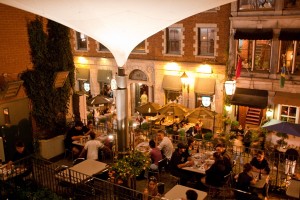 After dinner, we took a stroll along the Old Port.  The view of Montreal's skyline was in the background and in front of us were docked yahts and speed boats.  The Diver Cité festival was in full swing and there were live electronic bands performing.  Across the river, on Parc Jean Drapeau, we could hear the concerts taking place at the Osheaga festival.  We could see the lazer light show and hear the bands playing.  It looked like quite the party out there!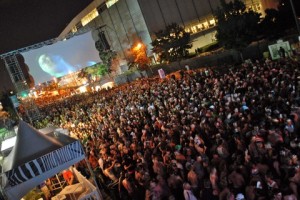 While we were making our way along the port, we could see all different types of people enjoying the beautiful summer evening.  They were having picnics with wine and fancy sandwiches and cheeses.  It was absolutely lovely!  Daniele was so impressed – and we were so proud to show off our city!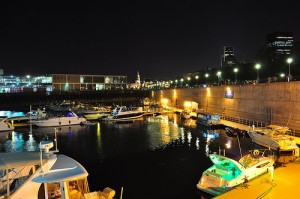 The night ended with the last firweworks exhibition.  The sky lit up with the most amazing firweworks.  It was spectacular!  When the show ended everyone applauded and all the ships and boats in the harbour blew their horns!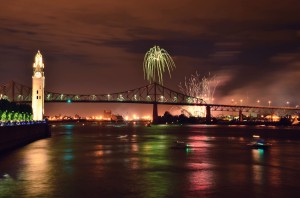 On our way back to the car we stopped for Italian gelato.   Daniele's treat and a thank you for a fantastic evening in the city!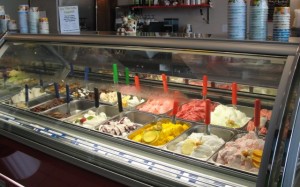 There is only one word to describe our Friday evening – MAGICAL!
Elisa
Comments
comments