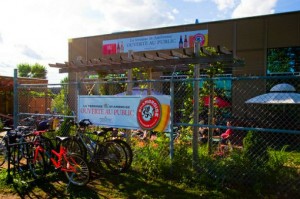 Located along the Lachine Canal, the St-Ambroise Terrace is an ideal place to rest your feet after a day of biking, roller skating, running or walking. It is also a great place to discover the variety of the McAuslan beers. What is better than getting together with friends around fresh beer and beautiful scenery! Also, if you take a look through the window of the brewery, you will be able to find out exactly where your beer came from!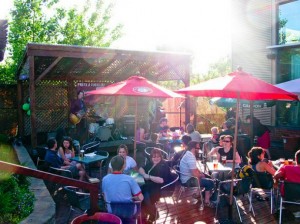 McAuslan  Brewing began operations in January of 1989. Located at 4850  St-Ambroise Street in Montreal's St-Henri district, it has established  itself as Quebec's foremost micro-brewery. The brewery launched its first beer in February 1989. St-Ambroise  Pale Ale was an immediate success. Its distinctive hoppy-ness and clear  reddish hue set it apart and gained it an instant following. Shortly  after, McAuslan Brewing became the first micro-brewery to offer its  product in bottles.
Their top 10 Ales, in order of popularity, are:
1. St-Ambroise Cream Ale
2. Apple Cider Du Minot Rosé
3. St-Ambroise Pale Ale
4. Apple Cider Du Minot White
5. St-Ambroise Apricot
6. St-Ambroise Scotch Ale
7. St-Ambroise Stout (moves to 1st place in winter or on cold terrasse evenings)
8. St-Ambroise Raspberry
9. Griffon Extra Pale Ale
10. Griffon Red
Why drink these beers on the terrasse? Well, getting out of your house and being social is a good thing, for one. You can also get $3 tasters and don't need to invest in an entire case of something. Or if you want to invest a little there are $16-$20 pitchers. And there's BBQ.

During your visit you will discover how the beers are brewed and the process of bottling them. Of course, a tour of the brewery includes a tasting of their regular beers and their specialty beer of the season! A tour guide will explain what makes the quality of their beers and how to taste them. In addition, a glass from their collection will be given as a souvenir!
Here are some important details regarding tours:
Location: McAuslan Brewery / Centre St-Ambroise
Time: Wednesday night 6:15 PM, 8:00 PM
Duration: About 75 minutes
Number of people allowed per tour: 15
Cost per person: $20 taxes included
CASH ONLY
CLOSED SHOES ARE MANDATORY / 18 YEARS OR OLDER
Comments
comments