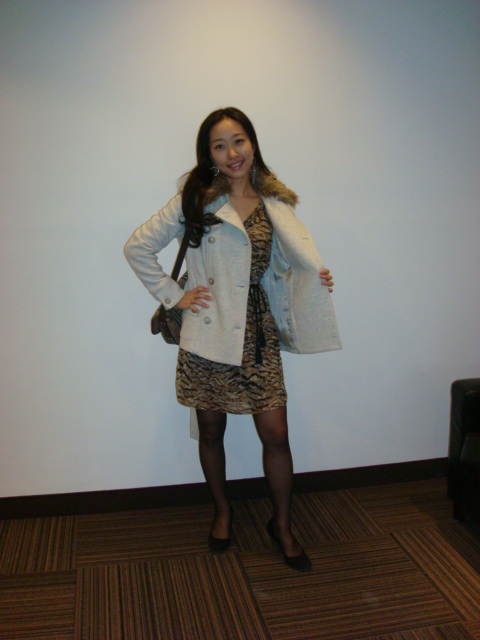 Renee is our newest EC Montreal staff member.  She will be joining the team as a student counselor on October 1st!  We are delighted to be welcoming her to EC!
Renee is very bright, well educated and professional.  She finished top of her class in her studies.  We are confident she will do great things at EC Montreal!!
We thought it would be a hoot to interview her so you can all meet the fun side of Ms. Renee Lee!
Who are you wearing?
Jewelry:  Guess
Jacket:  Ralf Lauren
Dress:  Dynamite
Purse:  Burberry
Shoes:  Naturalizer
Tights:  The Bay
Make-up:  Lancome
Tell us about yourself!!
Favorite designer:  Gucci
Fashion Idol:  Jennifer Anniston
Passion:  Travel
Pet peeve :  negativity
Favorite gelato :  coffee
Favorite actor :  Leonardo DiCaprio
Favorite beer :  Stella Artois
Must have in your pantry:  chocolate chip cookies
Mountain or ocean:  ocean
Favorite boutique:  Bedo
Favorite restaurant:  Gibbey's
Favorite dish?  Escargots & steak dinner
Favorite aperitivo?  Beer
Best coffee in montreal?  Art Java
Best pizza?  Pizzeria Napolitana
Favorite snack?  Guacamole
Best bar in Montreal?  Jardins Nelson
Favorite street in Montreal?  University street
A thing about you that would surprise most people?  I drink like a fish!
You know when you are a Montrealer when or if?  People from other provinces say I am an aggressive driver.
Best way to feel Korean in Montreal?  Cheering Korea on at the world cup soccer or Olympics.
Describe your ideal day on Sunday in Montreal?  Going to Old Montreal and having a cold beer on a terrace.
Describe your ideal night out in Montreal?  Same as above
Favorite word:  Travel
Least favorite word:  no
What turns you on? Vacation
What turns you off? Coming home
What sound do you love?  Singing
What sound do you hate?  A baby crying
What is your favorite curse word?  Damn
What profession would you like to attempt?  Hotel owner/manager
What profession would you not like to do?  Teach
If heaven exists, what would you like to hear god say when you arrive at the pearly gate?  Your family is waiting for you
Comments
comments