Montreal held its first annual Burger Week.  Over twenty restaurants – some with specialty burgers specifically for this week – participated in this weeklong burger brawl, battling for the ultimate title.
Find some of Montreal's BEST burgers below:
Bofinger: Smoked and grilled 100% all beef patty, with Bofinger's famous pulled pork, house smoked bacon, Swiss cheese, Spicy barbecue sauce all on a toasted Portuguese bun.  Awesome addition of tangy coleslaw, reminiscent of any classic pulled pork sandwich but with a burgery twist.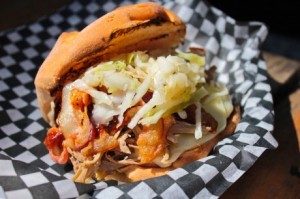 Restaurant Biarritz: Bulgogi marinated flank steak, homemade kimchi, topped with freshly chopped scallion and ginger drizzled with oil. Cooked to a perfect medium rare and served on a grilled sesame seed bun, the burger took first place.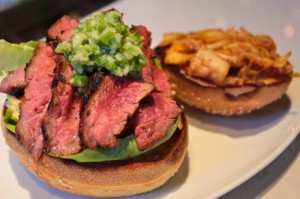 Café Pave: One of the three vegetarian options on the week – a patty comprised of braised black turtle beans, corn with a south-western kick, English cucumber, organic Roma tomatoes, spinach with roasted garlic, and dressed with a yogurt sauce.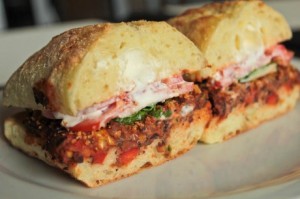 Bistro le république: Beef patty, cheddar, crispy griddled cooked bacon, onions, with a dollop of homemade bbq sauce on a sesame seed Kaiser bun.  Pretty basic burger until they sexed it up by braising the onions with beer.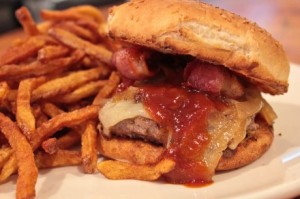 Café Souvenir: Called the "breakfast burger", this burger encompasses everything you think of eating first thing in the morning: pulled pork, topped with a sunny-side up egg, and guacamole.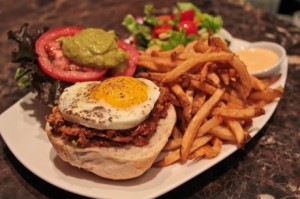 Comptoir 21: From a fish and chip shop comes the fish and chip burger sans the chips… So basically it's a fried fish burger. Topped with mesclun, tomatoes, sliced pickles and their house special sauce.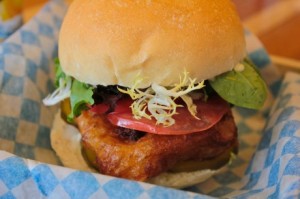 Diablos Smoke House BBQ: Called the sixth deadly sin, this monstrosity is AAA-beef patty, provolone cheese, smoked bacon, smoked tomato ketchup hugged in a pretzel bun. Only way they can push this burger over the edge is if they battered and deep fried it… wait a minute…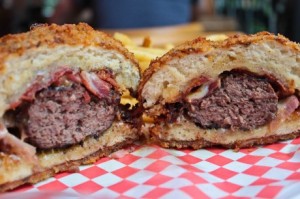 KONO Pizza: The only non-burger entry of burger week – A cone shaped pizza burger pizza cone. Grilled fresh ground beef, secret four-cheese blend, homemade tomato sauce wrapped in their signature pizza crust cone.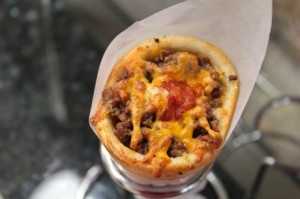 Le Gros Jambon: All beef patty, caramelized onions, topped with fried pickles and doused with a homemade Coca-cola mayo in a homemade hamburger bun. Yes, I said Coca-cola mayo.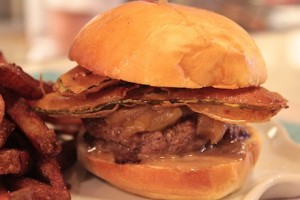 M:Brgr: Kobe beef patty, topped with pecorino, arugula, grilled sweet cherry tomatoes, with a grilled slice of all beef salami slapped on top – the burger was decadent and lustful.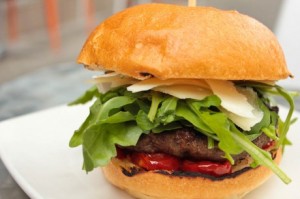 Nouveau Palais: This is a traditional burger topped with straight up classic fixings: lettuce, tomato, onions, bacon, and cheddar on a poppy-seed bun.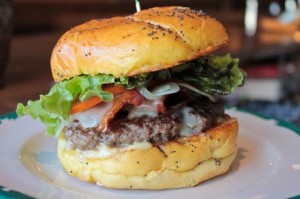 Our mission at EC Montreal is to taste every single one of these 11 Montreal burgers!!  They look simply amazing!!
Comments
comments