An artistic event that ended September 3, 2012
Aires Libres is an eco-artistic happening.  This yearly eco-artistic happening invites the general public to celebrate freedom of expression in the heart of downtown Montreal. The event turns Sainte-Catherine Street into a pedestrian mall where passers-by can mingle with artists and actors. You'll be charmed as you reflect on ephemeral art installations!
Mémorama is a series of drop-in booths spread out over St. Catherine Street between St. Hubert and Papineau Streets. Each one of these drop-in booths showcases Aires Libres – its unique cityscape of pink resin balls, its crowds, its terraces – and invites passersby to take part in a live collection of postcards of the Village. These booths are wired to a system of cameras that allows visitors to take a picture of themselves from a unique and playful vantage point. Photos are then shared through an on-line collective archive.
Sondra Lee from the US came to study French abroad at EC Montreal for only one week.  You might say that one week is not enough but for Sondra it was plentiful to experience one of the many different festivals that Montreal has to offer.
Below is a picture taken of Sondra with her homestay at the event.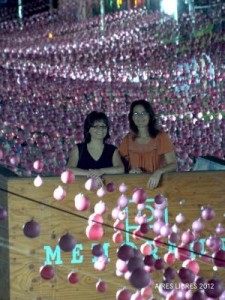 Comments
comments