I can honestly say that one of the pleasures of working for EC Montreal is hearing the feedback we receive from our students.
Most international students that come to study English or French abroad are nervous.  Some email us with questions before arrival while others look nervous on their first day at school.  It is so reassuring for them to hear the words "please come to the office at any time if you have any questions".  During their first day information session we make sure that they feel welcomed in the office at any time and that there is no pointless question.
This was the case for Yoko from Japan.  Before her arrival she was very nervous.  She would email our accommodation coordinator with questions almost on a daily basis before her arrival.  She was a little older than the average student and was a little nervous about the age difference.  That didn't last long; Yoko made many friends, attended our activities and visited the office often.  On her last day she came into the office to take a picture with our accommodation coordinator and other staff members.  When she left she promised that she would email us her pictures.   She did with a very nice message;
"It was nice seeing you and staying EC and Montreal.
I attach the picture of us in my last day of EC.
I would like to enrol to EC again since it is so nice school.
Thank you everything."  Yoko
Thank you Yoko for sending us the picture you took with our accommodation coordinator and for your lovely message.  We will miss you and we all look forward to seeing you again in the near future.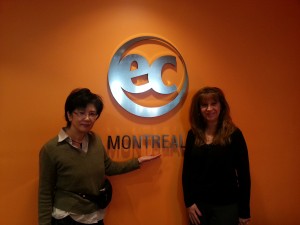 Comments
comments