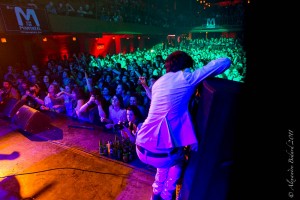 Get to know Montreal through its music scene at M for Montreal, November 14-17, where Montreal bands, known and unknown, share the bill with international acts, making for some amazing live music experiences…
The festival, now in its 7th edition, puts together a mix of rock, folk and indie-eclectic shows paired with a music biz conference for musicians and industry professionals from the U.S., the U.K. and around the world.
For music fans who feel like rock n' roll one night and Afro-dub beats the next, luck would have it that as a bonus this year, M for Montreal teams up with Mundial Montreal world music festival, November 13-16. Just like M for Montreal, Mundial has an professional conference as well as plenty of live shows, including a festival opener with Louisiana-based The Soul Rebels, Cedric Watson & Bijoux Creole and Montreal musicians Canaille, Marco Calliari and Cécile Doo-Kingué.
THE DETAILS
M for Montreal, November 14-17, 2012
Mundial Montreal, November 13-16, 2012
Comments
comments