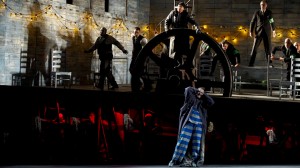 Our EC Montreal students are always looking for something cultural to do during their stay.  Visiting La Place des Arts and taking in an opera is a must in Montreal!!
Opéra de Montréal brings a bit of Germany to Montreal with Wagner's famous Flying Dutchman, on the eve of the 200th anniversary of his birth…
Launching its 2012-13 season on a high note, l'Opera de Montreal brings Richard Wagner's The Flying Dutchman to the Place des Arts's Salle Wilfrid-Pelletier, at the epicentre of the city's cultural scene.
As a guarantee of authenticity, Opéra de Montréal has brought in the lead performers direct from Germany: bass-baritone Thomas Gazheli will take the starring role of the Dutchman, alongside soprano Maida Hundeling as Senta, while her poor sap of a fiancé Erik will be played by tenor Endrick Wottrich.
This is just the first quarter of the opera season, of course – up ahead there's some Strauss, Dead Man Walking by Heggie and Manon by Massenet… so stay tuned!
THE DETAILS
Opéra de Montréal presents Wagner's The Flying Dutchman – the last performance is tonight, November 17.  You can still get tickets!  Don't miss it!!
Comments
comments