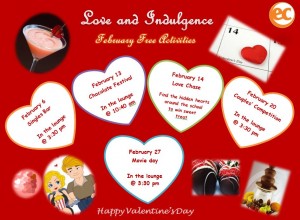 February will be a month filled with love and indulgence!  We have so many delicious free activities planned for our EC Montreal students.  If you look at the activities carefully, you will see there is a logical sequence to the order they have been scheduled.  On February 6, the EC student lounge will be transformed into a singles bar!  We will be serving martinis in different colours.  If you choose to drink from the red martini, it will symbolize all those around to STOP – "I'm taken".  If you drink from the green martini, it will symbolize to everyone – GO!!!  GO!!!  GO!!! – "I'm available".  The yellow martinis mean – "It's complicated – I'm with Mr. Right Now – not necessarily Mr. Right!"
We are all hoping students can make a love connection over a few martinis.  Cupid – are you listening?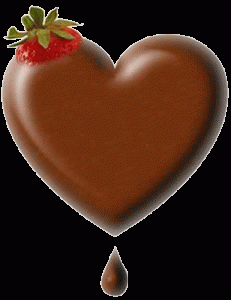 On February 13, the lounge will host its first annual chocolate festival.  Those who didn't make a love connection at the singles bar can drown their sorrows and indulge in chocolate.  For those who have found love, there is nothing more romantic than feeding each other chocolate covered fruit.  There will be a chocolate fountain in the centre of the table and all kinds of wonderful foods to dip.
On February 20, our EC Montreal couples will be challenged and will compete for the title of best EC couple!  They will be crowned the king and queen of EC Montreal and will enjoy some sweet treats!
On February 27, all the newly formed EC couples can enjoy a showing of the very romantic comedy – Valentine's Day!
What an amazing month of love & indulgence we look forward to at EC Montreal!  Let the fun begin!!….& cupid, work your magic!!
Comments
comments