Prepare for a style invasion as thousands of fashion industry professionals will get together in Montreal this February 4 to 7 2013 for the 24th Montreal Fashion Week, a colourful event produced by Groupe Sensation Mode in partnership with P&G Beauty & Grooming. Not only will the fashion world's elite be on hand, but a few fortunate fashionistas will be able to get themselves one of the limited number of seats set aside for the general public to witness the latest trends first hand.
Montreal Fashion Week is a must-see event for the North American industry and above all, the perfect venue for launching major international collections. A stage for cultural expression, it celebrates the work of fashion artists, craftspeople and other creators with an effervescence all its own. From February 4 to 7, over 30 Montreal, Canadian and international designers will unveil their Fall/Winter 2013 collections.
Hey, EC Montreal students, many celebrities are in Montreal for Fashion Week, you never know who you are going to bump into!  Will Smith was spotted yesterday with his entourage at a fashion event!!
Photos courtesy of Tourisme Montréal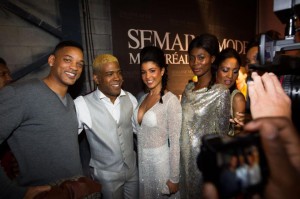 Comments
comments