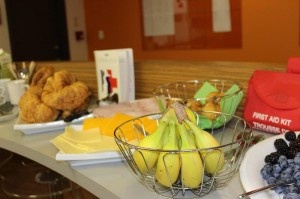 This past Saturday, EC Montreal staff and teachers had a very special teambuilding experience.  It was a few hours of bonding between colleagues with a great motive!  We were getting CPR training and First Aid Certification.
We began the day with a warm and inviting group breakfast.  It was a little difficult getting up early on a Saturday morning, so knowing a prepared breakfast was waiting for us at the school was just the motivation we needed.  The admin staff and teaching staff gathered at 9 a.m. on a Saturday morning and enjoyed breakfast together.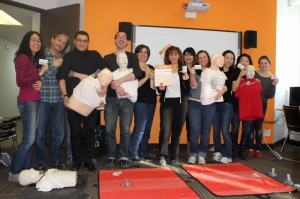 At 10 a.m. we had an instructor from Canada's Heart and Stroke Foundation come in to give us all CPR training and First Aid Certification.  I can't really describe the feeling.  All I can say is that it was a very empowering exercise.  Knowing that me and my team of colleagues can save a life, if needed, felt pretty good.  We practiced emergency situations as a group and bonded as a team throughout the experience.
We all felt a sense of pride and respect for one another when we past the training session and were presented with our CPR certification card.
It was a memorable day and one that we will cherish for many years!  Thank you EC for this wonderful training session!
Comments
comments