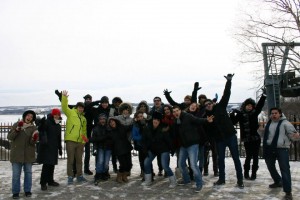 Winter in Montréal is seen even before it is felt. Well before the first flake of snow hits the ground, the days grow ever shorter as the sun makes its regular retreat. Now in its 13th year, Montreal highlights Festival – brings back the light, making this festival both a celebration of winter and a harbinger of spring.
Running from February 21 to March 3, 2012, The Highlights Festival, is one of the largest winter festivals in the world. Offering a unique experience that includes various arts and gastronomy programs, as well as a host of free family activities (both in- and outdoors), it has attracted some 900,000 guests annually.
Each year there is a different emphasis, and this year the spotlight—both in terms of music and cuisine—shines on Belgium. With its renowned chefs and master chocolatiers, Belgium's Wallonia-Brussels region is the focus of this year's gastronomy program, which has helped to establish Montréal's reputation with foodies from near and far by pairing the city's finest chefs with the some of the world's greatest culinary masters. Not only has the festival's honorary presidency been conferred upon Chef Yves Mattagne, whose work has greatly contributed to the gastronomic reputation of Brussels, but a host of visiting chefs and vintners drawn from five continents includes distinguished representatives from both Brussels and Wallonia. This year's edition of the Highlights Festival sets the table for a gourmet feast of global proportions.
Although the festival's star-studded gastronomy program shines brightly, every facet of Montréal culture glitters with the festival's arts program, which includes music, theatre, dance and circus arts. This year, the festival, which welcomes both icons and emerging artists from at home and abroad, will culminate with an homage by some of Québec's biggest musical stars to Belgium's most famous export, singer Jacques Brel.
In addition to a plethora of activities in the gastronomy and arts programs, The Highlights Festival transforms the Quartier des spectacles and its Place des Festivals—right in the heart of downtown—into the ultimate family destination, offering a host of open-air activities that showcase Montréal's flair for entertainment. Other fun-filled events, such as the Celebration of Light in Old Montréal and the not-to-be-missed, The Nuit Blanche, also known as Montreal's All Nighter, take the chill out of even the coldest air.
So bundle up and come bathe in the warmth of Montréal's festive light. One taste and you'll be clamouring for more!  You can take on the festivities on your own or wait to join the EC Montreal activities team on the scheduled activity this month!  Even when it's cold outside – Montreal is a city that just doesn't rest.  Enjoy every aspect that this city has to offer – devour every inch of it!!
Comments
comments