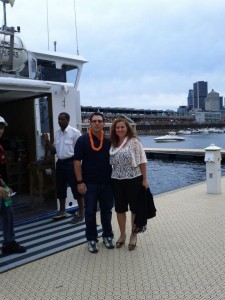 If you are an EC Montreal student you will be delighted to hear that  you chose an excellent destination to learn English and French.  MSN's travel guide has put Montreal in the top 10 cities that are the sexiest on the planet.  Here's what they had to say about our fair city:
'Maybe it's the stylish locals, the mouthwatering cuisine, or the European élan of Old Montreal that nudges the mind (and body) towards more sensual pursuits. Whatever the spark, the city whispers sex appeal. There's always something intriguing to pique your interest — a thriving club scene, acclaimed restaurants, the annual jazz festival and the sizzle of the Grand Prix. Move over New York City. Montréal is a city that rarely sleeps, making it the perfect partner in crime for couples on the prowl for adventure.'
check out the link for all the details of the poll: http://travel.ca.msn.com/rd-photoviewer.aspx?cp-documentid=256088978#image=2
Most of our visitors and locals would agree that there is something special about this city.  It is hard not to fall in love with all the charms Montreal has to offer.  One of EC Montreal's goals is to show our students everything this city has to offer!
Comments
comments