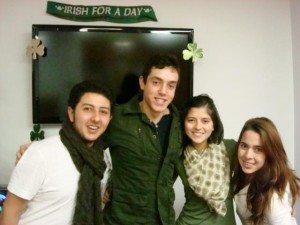 Montreal's St Patrick's Day celebrations take it up a notch this year as the annual parade and general shenanigans happen to coincide with the real St-Pats this Sunday, March 17. We hope our EC Montreal students will get inspired to get in on all the excitement – some of it will be tame, some of it less so – starting with the parade at noon on Sainte-Catherine Street at Fort and raucously moving east to Philips Square over the next three hours…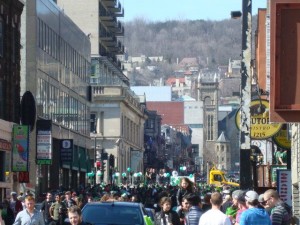 While pub crawls, green top hats and Irish (and temporarily Irish) eyes a-smiling abound in Montreal, the parade is indisputably the focal point of the day – after all, it's been a tradition every year since 1824. Settle in on the sidelines or walk along as the hundreds of parade floats, musicians, dancers, marching bands and revellers happily and loudly make their way down one of the city's main ways, marking not only a day of celebration, but the importance of Irish cultural heritage in Montreal.
Montreal may be known as the biggest French-speaking city outside of France, but a quick glance at the city's history shows a much more complex picture, especially when it comes to the hundreds of years that the Irish have been here. Find out more about Montreal's Irish history at the Pointe-à-Callière archaeology and history museum's multimedia exhibitions, and at the McCord's Points of View exhibition, as well as through their online tours as well.
Of course, given that this is Montreal, Sunday's parade is necessarily preceded by Friday and Saturday night's Irish-inspired partying. There's sure to be a hint of green in most bars and clubs in the city, but Montreal's Irish pubs are truly where the boozy, rainbow's-end gold is found. Stop by Hurley's on Crescent Street, the classic Irish go-to bar with plenty of dark corners and great beer on tap, and Winnie's just up the street (where on Sunday morning there's even an all you can eat brunch buffet and live music). McKibbin's will be packed with proud folks with Irish last names and Irish-wannabe rowdies alike, as will The Olde Dublin, known for its live music and whiskey, The Irish Embassy, Ye Olde Orchard and McClean's.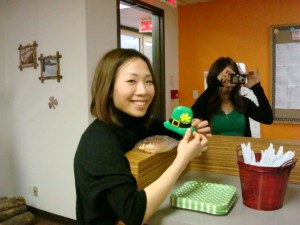 EC Montreal will be celebrating St. Patrick's Day all week long – with green beer and hot dogs on Wednesday, March 13, Pub Activities on Friday, March 15 and the St. Patrick's Day Parade on Sunday, March 17!  We are all going green to celebrate being Irish for a day, or two or three…
Comments
comments