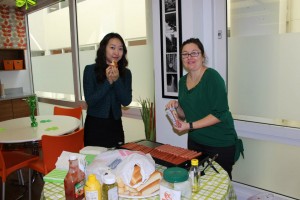 Green was the colour of the day!!  We held our weekly free social activity today and boy was it a hit!  EC Montreal knows how to get their students together!  We give them every opportunity possible to mix, mingle and get to know one another!  Today's activity was St. Patrick's Day festivities.  We were all Irish for the day! – and did we ever have fun!!
We served green beer and hot dogs and encouraged our entire EC family; teachers, staff and students to wear green!!  …and many did!!  It was great!!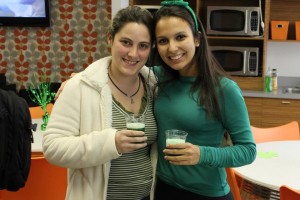 Those students who did not wear green were encouraged to leave a donation in our tip jar.  All proceeds will be donated to the Shriner's Hospital for Children.  Many students who wore green decided to generously give and tip our jar!  EC Montreal students are the GREATEST!!
A fun time was had by all!  If our goal was to help students make friends while having fun and practicing their English and French – WE SUCCEEDED!
St. Patrick's Day festivities will continue all week long with a pub crawl on Friday and the parade on Sunday!  Enjoy, be safe and have fun everyone!!
Comments
comments