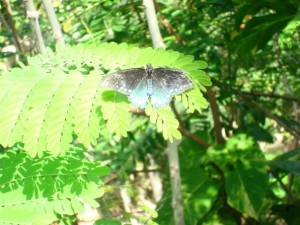 Wednesday, March 20 is the first day of Spring!  We could not think of a better way to welcome Spring than by visiting the Botanical Gardens' Butterflies Go Free exhibit!
The Botanical Gardens have welcomed thousands of beautiful butterflies and their equally attractive cousins, the moths.  Over 2000 butterflies will be fluttering about the green house at all times. EC Montreal students can look forward to discovering over 75 different species of moths and butterflies hailing from Canada, Costa Rica, El Salvador, Kenya, Malaysia and the Philippines.
This year the Butterflies Go Free spotlight is on the majestic Monarch butterflies. These butterflies are featured not only for their exquisite good looks, but because they have the longest migration in North America. They travel from Mexico in the winter to Quebec where they are spotted around June (probably heading to the Jazz Fest) and until the end of the summer. It takes 4 generations of Monarch's to complete the trip, which usually spans about one year.
While EC Montreal students are at the Botanical Gardens, they can recline in the swank Monarch Lounge. The Monarch Lounge's seats are designed like eggs, caterpillars and chrysalises. The decor was dreamed up by Quebec designer Liz Vandal, an internationally renowned fashion/costume designer famous for creating the costumes for Cirque du Soleil's insect inspired show, Ovo. From the butterflies and moths to the decor, Butterflies Go Free is a lovely way to welcome Spring in an almost fairy tale like setting.
Comments
comments