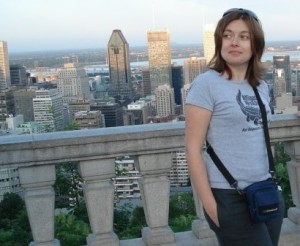 EC Montreal is delighted to introduce you to our new Accommodation Coordinator / Student Counselor, Paula Marginean!  We wish her all the success in the world in her new role at EC!!
Here is what Paula would like to share with all of you!!
My name is Paula Marginean and I have been part of the Montreal team since 2008. Throughout my journey with the company I was in turn administrative assistant/student records and up to recently student counselor.
I will be taking up the position of accommodation coordinator / student counselor with a lot of excitement and with what had been my main focus ever since I started working here: the wellbeing of our students.  We aim at offering our students more than just courses and a place to live, we want them to remember the services that our school offers as part of an amazing and life enriching experience.
My focus will be to offer our clients outstanding accommodation services and well aware of any challenges that may lay ahead I am taking this new role with confidence, because I know I am part of a great team and we support each other so that we can accomplish our goal: helping students succeed in a global community. 
Comments
comments